Patrick Rhino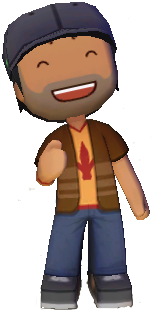 Character Info

Edit
| | |
| --- | --- |
| Modified Version of | Unmodified |
| Location | Patrick's House, Town Square |
| Role | Resident of Cocoa Isle |
| Exterior Interest Percentages | 5% Tasty, 0% Everything Else |
| Interior Interest Percentages | 21% Tasty, 3% Studious |
| Relationship with Essence Creator | Friend |
| Interests | Loves Tasty, Likes Spooky, Hates Geeky |

Patrick Rhino is a tasty, townie sim in Cocoa Isle. He is nearly always hungry and is very casual and laid-back. He lives in his "tasty" house by the wishing well. He was one of the remaining five residents and was there before Josh arrived.
Not much has changed inside his house since Josh's arrival except he now has a Red and Green Apple bed. It broke several months ago after the majority of Cocoa Isle was left deserted and since no one left in Cocoa Isle knew much about repairing, he has been using his couch as a bed. However, now that Josh has moved in, he now has a bed and they have created plans to do a mini renovation on Patrick's House. Also, since Gino's Pizzaria opened up, he has started to go into the town more often.
Gallery
Ad blocker interference detected!
Wikia is a free-to-use site that makes money from advertising. We have a modified experience for viewers using ad blockers

Wikia is not accessible if you've made further modifications. Remove the custom ad blocker rule(s) and the page will load as expected.